We've been busy making the BEST Suite the best app for you. If you're not already using the BEST Suite, now is a perfect time. If you already have the app, we want to assure you that it's still the same great app, we've just added enhancements for a better user experience. This blog explains changes and updates to the home screen.
Home screen

Below we include a brief overview of the BEST Suite home screen and its apps and features.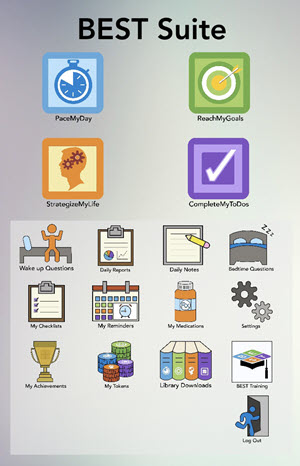 ---
Apps
PaceMyDay

Manage your fatigue and energy levels
ReachMyGoals

Manage your goals and goal-related tasks
StrategizeMyLife

Manage your strategies and life workarounds
CompleteMyToDos

Manage your To Do List items
---
Daily Tasks
Wake up Questions

Questions to help you assess your quality of sleep
Daily Reports

Access reports to show tasks completed for a specific date
Daily Notes

Enter notes related to a specific day
Bedtime Questions

Questions to help you assess your day
---
Checklists & Reminders
My Checklists

App to manage initiation and cuing of items on a checklist
My Reminders

Manage reminders from all apps within the BEST Suite
My Medications

App to record medication list, dosages, and frequency
Settings

Access general BEST Suite app settings, such as simplification options, adult vs. child mode, and motivation level
---
Achievements, Templates & Training
My Achievements

Display medallions and trophies achieved though app use
My Tokens

Display tokens earned through app use and/or through purchase
Library Downloads

Access to templates for PaceMyDay categories, ReachMyGoals goals, StrategizeMyLife strategies and MyChecklist items
BEST Training

Access BEST training courses related to apps and cognitive rehabilitation topics
---
We hope you enjoy these new features. Again, we understand that getting acquainted with app updates can sometimes be stressful so we've updated and added online courses to help you. Below is a list with links to trainings for these updates:
VISIT HERE for a full list of these and other online courses we have available.
In these times of unrest and uncertainty, we hope you can turn to BEST to help manage your day and reduce some of the stress and anxiety we all are feeling. We hope you find the enhancements not only useful but also motivating to use the BEST Suite every day.